As another turbulent year draws to a close, the Cabells team has been inspired by our friends and colleagues at The Scholarly Kitchen and other blogs and shared our thoughts on our favorite books we've read in 2021. We'd love to hear about your favorite books as well, so please feel free to leave your suggestions on the chat at the bottom. In the meantime, best wishes over the holidays to all our readers and a Happy New Year for 2022!
---
By Honor Bound by Tom Norris and Mike Thornton, with Dick Couch
By Honor Bound tells the harrowing true stories of two heroes and Medal of Honor recipients, Tom Norris and Mike Thornton, Navy SEALs who served together during the Vietnam War. Norris was awarded the Medal of Honor for repeatedly leading a team of South Vietnamese Sea Commandos behind enemy lines to extract two downed American pilots. Just months later, in the waning days of the war, Norris and Thornton led a reconnaissance mission deep into enemy territory where they encountered a vastly superior force. Norris was shot in the head and presumed dead by a South Vietnamese soldier who alerted Thornton once at their extraction point. Without a second thought, Thornton fought his way back to Norris (who was in fact not dead and went on to a long career in the F.B.I.) and out again, an unbelievable act of courage and loyalty that resulted in his being awarded the Medal of Honor. This represents the only time in modern history the most prestigious military decoration was awarded in a combat action where one recipient saved the life of another. These inspiring firsthand accounts, told by Norris and Thornton to fellow Navy SEAL Dick Couch, are as remarkable as the men who lived them. ~ Mike Bisaccio

I have a confession to make. I haven't read a book from cover to cover since the onset of the pandemic and realise that browsing around a bookshop figures highly in my enjoyment of the printed word. I have instead become a devotee of the podcast and would like to recommend Professor Suzannah Lipscomb's 'Not Just the Tudors'. It isn't necessary to have an in-depth knowledge of the 1500s and the 1600s or its protagonists to enjoy this podcast. The style is such that you can be forgiven for thinking that you're eavesdropping on a couple of expert historians discussing their research. The enthusiasm and passion for the subject is always evident while the experts make sure to provide background and context. Subjects are international and range widely through fashion, food, art and culture but even the very niche topics are brought to life. Quite a surprising amount of source material has survived in private collections so it's thought-provoking to see how historians are using this to blow away some modern- day misconceptions, for example about Tudor and Elizabethan interactions with the Muslim world and with people of African descent. This podcast is a fascinating and thought-provoking listen but at the end of the day, if plain old intrigue, politics, sex and power play in the Tudor royal court is your thing, there's still plenty of it to discover here. ~ Sarah Pollard
This is a gem of a book, it largely takes place in a draughty old castle in Scotland and begins with the murder of the 16 year old protagonist Elspeth. Despite this grisly start, the beautiful, rich and witty writing make this book a joy to read. The story covers Elspeth's short life and her misfit status both within her family and at boarding school. Elspeth finds solace in books, the landscape, animals and her relationship with her unconventional whisky-loving, Aunt Lila who is an expert on all things Fungi. Imbued with a feel of the gothic and more than a little of the strange, this is the perfect winter read. ~ Ruth Bailey
This book tells the deliciously horrifying true story of the Donner Party in the mid-1840s. Distasteful pun intended. As was that one. The story gives great insight into the unimaginable difficulties, pain, and decisions the members of the Donner Party faced as they trekked across the American wilderness from Illinois to California. They walked alongside wagons pulled by oxen across plains, desert, and through mountains before finally getting caught in unusually cold and snowy weather in the Sierra Nevada Mountains. It's a heartbreaking story of death and loss, but underneath it all is a story of survival – of doing whatever it takes to overcome the odds and live another day. Throughout the book are real accounts from letters written by survivors and explanations of how and why the victims' own biological processes failed them. This was a riveting story – despite widespread knowledge of how it would end – but much like the early American emigrants' journey, it's to die for. (Final pun intended.) ~ Kathleen Berryman
I actually have 17 favorite books this year, so far (the year's not over yet). In the interest of brevity, I have painfully narrowed the list to three.
Literary Fiction: Matrix: A Novel by Lauren Groff – I was devastated when this novel did not win the National Book Award last month. It is set in the 12th century and centers around Marie de France. She is the first known female writer of francophone verse, but very little is known of her actual life. At its heart, the novel is a thematic exploration of how suppression foments righteous rage which can be used to fuel defiance, devotion, determination, and ultimately power. Bonus points for the novel's title which highlights the Latin origin, meaning "mother".

Classic Fiction: The Brothers Karamazov by Fyodor Dostoyevsky – One of the greatest novels ever written. Maybe the greatest? As I read it for the first time this year (why did I wait so long?), I found myself wishing over and over that I could read it in the original Russian. If Dostoyevsky's genius can peek all the way though the translation, imagine the glory that must be present in the original language text. I found myself stopping to cross-reference various translations trying to extract as much meaning and elegance as possible. The novel is a tour de force of insight into human nature and psychology.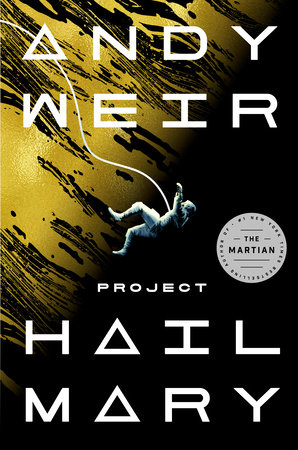 Popular Fiction: Project Hail Mary by Andy Weir – Such a fun, life-affirming read! Amid the difficulties and despair of 2020 and 2021, it is a sheer pleasure to read a novel that highlights the best attributes of humanity: intelligence, determination, devotion and kindness. A science-fiction tale of survival that highlights the stellar power of friendship. ~ Lacey Earle
Perhaps more suited for the 1886 Book of the Year, I explored the literary classic The Strange Case of Dr. Jekyll and Mr. Hyde by Robert Louis Stevenson. The modern adaptations we grew up with, from film to Looney Tunes cartoons, managed to streamline the narrative and soften out all the rough edges that make the original so rich. The duality of man theme is at the story's core, but it's explored, in full psychological depth, through a sort of mystery whodunit. Watching helplessly as our neighbors struggle and slowly transform into dangerous new forms without the ability to rationalize or stop it feels just as relevant of an idea today as it ever was. Add to that the after-dark backdrop of 19th century London, and you feel like you're in a Victorian-themed escape room. Unravel the mystery, revel in scientific discovery, and watch in horror as one "man" terrorizes a small community. ~ Ricky Colson
In John Reader's book that goes by many names, the central focus is our favorite nightshade: the potato. Though it discusses the history of the potato itself, including its cultivation in its original soil and its expansion to into every corner of the world, the book really shines in its examination on the potato's role as a catalyst that stoked the furnace of urbanization and, ultimately, the industrial revolution. It explores how the potato has been used to variably feed the hungry, exploit workers, create whole economies and shepherd socioeconomic class systems into the modern era. This book is worth a read for anyone who likes to eat potatoes or has been taking part in post-industrial civilization. Suffice to say, that's most of us. ~ Lucas Toutloff